Subject: Louis Pappas' Hamburger Steak Smothered in Onions.
From: Pam
Date: 2/7/2020, 12:29 PM
To: phaedrus@hungrybrowser.com

On 2/6/2020 7:20 PM, Pam wrote:

Louis papas Greek hamburger steak with gravy and onions.. When the restaurant was 
open loved going there to have this dish..

Thanks,
Pam

Hi Pam,
The only mentions of a recipe for this that I can find are this one: Tampa Bay.com However, the recipe itself is not there, and what appears to be a link to it on that page does not work. I believe the recipe was on a newspaper site and has since been taken down.
The other mention was on Amazon.com. The mention there is of a recipe pamphlet called "Louis Pappas' Famous Greek Recipes". See: Amazon.com
The pamphlet itself is listed as "unavailable", but you might find a copy for sale somewhere. One of the photos of that pamphlet on the Amazon page shows it open to a recipe for "Hamburger Steak Smothered with Onions." However, the photo is just slightly too out of focus for me to read. Enlarging it doesn't help. I am attaching a  *.jpg copy of it. Perhaps you can read it better than I.
I'll post this for reader input.
Phaed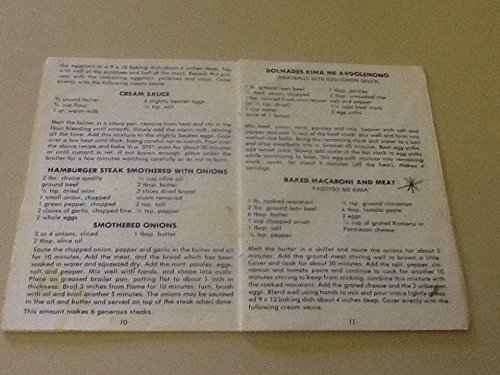 Subject: Louis Pappas Recipe
From: phaedrus@hungrybrowser.com
Date: 2/8/2020, 3:34 PM
To: Pam 

Hi Pam,
I had some spare time today, so I studied that photo image of the recipe and I think that I have deciphered it. Note that although the body of the recipes says "add parsley", parsley is not listed on the ingredient list. Use your own judgement. See the recipe below.
Phaed

Louis Pappas' Hamburger Steak Smothered with Onions

2 lbs choice quality ground beef
1/2 tsp dried mint
1 small onion, chopped
1 green pepper, chopped
2 cloves of garlic, chopped fine
2 whole eggs
1/4 cup olive oil
2 Tbsp butter
3 slices dried bread, crusts removed
2 tsp salt
1/4 tsp pepper

Smothered Onions

3 or 4 onions, sliced
2 Tbsp olive oil
1 Tbsp butter

Saute the chopped onion, pepper, and garlic in the butter and oil
for 10 minutes. Add the meat and the bread which has been soaked
in water and squeezed dry. Add the mint, parsley, salt and eggs.
Mix well with hands and shape into ovals. Place on greased broiler
pan, patting flat to about 1 inch in thickness. Broil 3 inches
from flame for 10 minutes, turn, brush with oil and broil for
another 5 minutes. The onions may be sauteed in the oil and butter
and served on top of the steak when done.

This amount makes 6 generous steaks.