---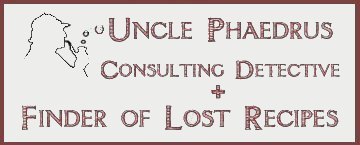 (Logo by phaedrus)
We find answers to questions and solutions to problems. Who? What? Where? When? Why? Which? How? Recipes, food, cooking, beverages, history, science, popular culture, geography, sociology, psychology, trivia, etc....
---
The answer IS out there!
(SOMEwhere...)
Food Trivia Recipes History Cooking Movies Beverages TV Science Health Literature Psychology Culture

Send your questions to:

Phaedrus
phaedrus@hungrybrowser.com or Phaedrus
phaedrus
---
Anise Candy, Mashed Potato Candy, Armenian Flatbread
Chocolate Sheet Cake
Butter Mints
The Exploding Cake
Toll House Cupcakes
What Now?
Pinch vs Shake
Can U Do the Fandangle?
---
Anise Candy, Mashed Potato Candy, Armenian Flatbread

----- Original Message -----
From: Jessica
To:   phaedrus
Sent: Saturday, September 30, 2000 21:34
Subject: lost recipes


> I'm looking for a few lost recipes:
>   "Anise Puffs" - delicious candy, almost the texture of the
> commercial butter mints but with an anise flavor----enjoyed them 
> at a German restaurant in Ogden, UT about 28 years ago!!!
>   "Mashed Potato" candy - mashed potatoes, mixed with powdered
> sugar, and rolled out, spread with peanut butter---then rolled up 
> and cut into slices
>   "Aremian Flat Bread" - enjoyed in many restaurants in Oahu, Hawaii
> Thank you!!!     Jessica 

Hi Jessica,
Try the ones below. I'm not sure about the anise candy, but it's the closest thing I could find to what you describe.
Phaed

Mashed Potato Candy

1 cup mashed potatoes or 1 medium sized potato (cooked)
1 cup powdered sugar (approximately) may need more if not firm
1 tablespoon vanilla
1 tablespoon maple syrup
1/2 cup butter
peanut butter (crunchy or smooth)

Combine mashed potatoes, powdered sugar, vanilla, butter and maple
syrup until a dough forms. It's better to wait until the potato is
cooled because if you don't, the sugar melts and you seem to have
to add a lot more sugar than if the potato were cooled. Roll the
dough out to whatever thickness you like. Roll it to about 1/4 inch
or maybe a little thicker. Spread peanut butter (crunchy or smooth)
onto the rolled out dough. Roll the candy up and wrap it in wax
paper or plastic wrap. Put it in the refrigerator to harden it up
a little. Slice and eat.

---------------------------------------------------------------
Armenian Flatbread
Crisp flatbread, more like a mega-cracker than a loaf of bread, is very
popular.

1/2 cup Warm water 125 mL
4 Egg whites 4
1 tbsp Butter, melted 15 mL
1 tsp Salt 5 mL
1 tsp Granulated sugar 5 mL
1 tsp Active dry yeast 5 mL
2-1/2 cups All-purpose flour (approx) 625 mL
1 tbsp Each, sesame and poppy seeds 15 mL

Directions:

In bowl, combine water, egg whites, butter, salt, sugar and yeast. Using
wooden spoon, stir in 2 cups (500 mL) of the flour; beat until smooth. Add
enough of the remaining flour to form soft dough.

Turn out dough onto lightly floured surface; knead several times or until
dough holds together. Place in greased bowl, turning to grease all over.
Cover with plastic wrap; let rise in warm place for about 1-1/4 hours or
until doubled in bulk.

Punch down dough and turn out onto lightly floured surface; divide into 4
portions. Roll out each portion into 1/8-inch (3 mm) thick circle. Place on
lightly greased baking sheets. Prick all over with fork. Brush lightly with
water; sprinkle with sesame seeds and poppy seeds.

Bake in 400 F (200 C) oven for about 15 minutes or until golden brown.
Remove from baking sheets and let cool on racks. Cut each into 8 wedges.

Makes 32 pieces.

PER PIECE: about 45 calories, 2 g protein, 1 g fat, 8 g carbohydrate.
-----------------------------------------------------------------------
Anise Candies


This recipe uses an oil known as Anise, which has been shown to have many
beneficial medical effects. For more information on Anise oil click here.
These little candies are great. The recipe will make one good size serving.

Ingredients Needed:
2 c. of our Organic Sugar
1/2 c. of our Corn Syrup
1/2 c. boiling water
1/4 tsp. Cream of Tartar
1/2 tsp. of one of our food colorings
1/2 tsp of our Anise oil

Preparation:
Butter a 9x9" pan

Process:
Combine the sugar, corn syrup and boiling water with the cream of tartar in
a medium saucepan. Boil until the mixture spins a thread or the candy
thermometer reaches 200 degrees Fahrenheit. Add the food coloring and anise
oil. Pour the mixture into the buttered pan. When the candy has hardened
slightly it can be cut into desired shapes or when completely hardened it
can be broken into jagged pieces.

---
Butter Mints

----- Original Message -----
From: Jessica
To:   phaedrus
Sent: Sunday, October 01, 2000 22:54
Subject: Re: lost recipes


> Thank you so much for the recipes!!!! The "bread" and potato candy sound
> just right, but I don't think the anise candy is it.  The texture was 
> like that of those boxed butter mints by Kraft.  Solid but soft if that 
> makes any sense.
> Do you have a recipe for butter mints that I may be able to substitute
> anise oil?  I guess I'm strange---even then everyone would give me theirs
> because they didn't like them, but the flavor was light and not overpowering.
> Thank you, again!!             Jessica

Hi Jessica,
Below are three butter mint recipes that you can try. I have no idea which would work best.
Nothing strange about liking anise. I seem to recall reading something about women and the aroma of anise... Ah well, that probably isn't relevant. ;-)
Phaed

Easy Butter Mints


1/2 cup Butter or margarine
1 tsp Salt
2/3 cup Sweetened condensed milk
7 cups Confectioners' sugar; sifted
Desired colors
Oil of peppermint or desired flavor *
Yellow mint mold *
Granulated sugar for dipping candies
Cream butter and salt together until well blended. Add milk. Add sugar.
Remove from bowl and knead until mixture is well blended. Add flavor and
color.

TO MOLD: Shape a marble-sized piece into a ball, press into granulated
sugar, taking care NOT to coat back. Press firmly into the yellow-flexible
mint mold. Immediately unmold. You can unmold these directly onto a pretty
serving dish or tray and, not being coated on the bottom, they will remain
in place. If mixture sticks to the mold, add slightly more confectioners'
sugar. Let set uncovered, for a few hours, for desired firmness. Wrap tray
in plastic wrap and store in the refrigerator until ready to serve. Makes
about 200 mints. Recipe can be halved. Amount depends on size and choice of
mold used.

-----------------------------------
Butter Mints

3 tablespoons soft butter
1/4 cup cream
1/4 teaspoon salt
1 teaspoon vanilla
2 tablespoons peppermint flavoring
1 pound confectioner's sugar
food colorings as desired

Blend all ingredients. Knead. Let dry one day before packaging.

-------------------------------------
Butter Mints


2 Tblsp. melted butter
1 egg white (recommend reconstituted* dried egg white powder since this
isn't cooked)
3 c. 10-X confectioners' sugar
1/2 tsp. peppermint extract

Stir - knead til smooth, adding more confectioners sugar as needed to make a
non-sticky
mix that holds its shape when molded.  Roll into 1/2 inch balls -- place on
wax paper and press with tines of fork.  Let air dry.  For pink and white,
use food color in half the mixture and roll the white half flat and thin
(about 1/8 of an inch), roll the pink half the same way, place pink on top
of white and roll as a jelly roll.  Slice and reshape slightly if needed.
Dry on wax paper.

**reconstitute according to package directions with warm water

---
Chocolate Sheet Cake

----- Original Message -----
From: K.
To: Phaedrus
Sent: Saturday, September 30, 2000 16:04
Subject: find me a recipe


> You helped me one time before and I sincerely appreciate it.  Let's see
> if I'm as lucky the second time around.  :-)  A friend said someone
> baked her a chocolate sheet cake that had holes punched in the top with
> a chocolate frosting poured into the holes.  She only remembers that the
> frosting had a small amount of coffee granules added and that is was
> yummy.  I would love to find the recipe for her.  Thanks in advance for
> your help. K. 

Hi K.,
Well, I can find chocolate sheet cake recipes, but none with holes and none with coffee in the icing. The holes are an easy thing to do. You just take a wooden spoon and punch holes in the cake while it's still warm - before icing it. Below is a regular chocolate sheet cake recipe. Sorry I couldn't find the exact one. If you can find out the name of the cake, that might help.
Phaed

  Chocolate Sheet Cake
2 cups flour
2 cups sugar
1/2 tsp. salt
1 cup margarine
1 cup water
3 tbsp. cocoa
2 eggs, beaten
1 tsp. baking soda
1/2 cup buttermilk
1 tsp. vanilla
Sift flour, sugar, and salt.

Put margarine, water, and cocoa into a sauce pan and bring to a boil. Pour
over flour mixture.

In another bowl, beat eggs and add soda, milk, and vanilla. Add to above and
mix well.

Bake at 350 degrees for 20-30 minutes in a greased 15-1/2"x10-1/2"x1"
jellyroll pan.

Frost with Sheet Cake Chocolate Icing while cake is still warm.

--------------------------------------------
Sheet Cake Chocolate Icing

1/2 cup margarine
3 tbsp. cocoa
6 tbsp. milk
1 tsp. vanilla
1 box powdered sugar
Heat margarine, cocoa, and milk in a saucepan. Don't boil. Remove and add
sugar and vanilla. Mix well. Pour over warm chocolate sheet cake.

---
The Exploding Cake

----- Original Message -----
From: Richard 
To:   phaedrus
Sent: Monday, October 02, 2000 07:17
Subject: Yeast as a cause of cake mixture explosions


> Hello Uncle Phaedrus,
>
> I'm doing some research for a screenplay draft, and I need to plausibly
> create a scene in which a cake mixture explodes whilst baking (or, more
> accurately, when the oven door is opened to inspect the baking progress),
> thus spraying cake mixture-goo everywhere.
>
> My question is this: if loads of yeast were added to the mixture, might
> this cause such an explosion? (I realise that yeast might not (?) form 
> part of any recognisable cake recipe, but that doesn't matter in the 
> context of the scene in question) If not yeast, which ingredient, if 
> added to excess,might cause such an explosion?
> Any advice you can offer would be most appreciated.
>
> Adiós,
>
> Richard
>

Hi Richard,
This makes me think of an old 3 Stooges comedy short in which they added too much yeast to a cake batter. The dough kept rising and rising and soon filled the kitchen.
Here's the problem with yeast, if you want this scene to be at least semi-accurate: Yeast doesn't work in the oven. You add yeast to something, then let it sit out at room temperature while the yeast works. Yeast works so slowly that it couldn't cause an explosion anyhow.
Actually, there's not an accurate scenario in which a cake would explode like this, but it would be much nearer to being possible if baking powder were added in excess. Baking powder releases carbon dioxide when exposed to moisture and heat. If the moisture is acidic, then that increases the amount of gas produced. Your character might accidentally dump the whole can of baking powder into the batter, then accidentally mix in buttermik (the acid makes more gas) instead of regular milk. With a big stretch of the imagination, an explosion could occur.
Technically, the cake still wouldn't explode because cake batter won't hold together long enough to allow any pressure to build up. Of course, if your character accidentally used some sort of plastic powder or cement powder instead of flour, then the batter could form a big bubble of gas that might explode....... maybe.....
Phaed
---
Toll House Cupcakes

----- Original Message ----- 
From: Helga
To: phaedrus
Sent: Monday, September 25, 2000 13:46
Subject: tollhouse cupcake recipe

Hi Unc,

> A few years ago, I had a tollhouse cupcake recipe that was delicious.
> Somehow, it got lost, and I am craving them. can you help?
>
> Helga

Hi Helga,
I surely can. try the recipe below.
Phaed

TOLLHOUSE  CUPCAKES

 Ingredients : 
 1/2 c. butter
 6 tbsp. brown sugar
 6 tbsp. sugar
 1/2 tsp. vanilla
 ADD --
 1 egg 
 1 c. + 2 tbsp. flour
 1/2 tsp. baking soda
 1/2 tsp. salt
  FILLING:--
 1/2 c. brown sugar
 1 egg
 1/8 tsp. salt--Add:--6 oz. semi-sweet chocolate chips
 1/2 c. chopped walnuts
 1/2 c. coconut (optional)
 1/2 tsp. vanilla

 Preparation : 
   Beat above until thick.   Beat until thick.  Spoon batter into
 paper lined tins evenly dividing between 12 cupcakes.  Bake at 375
 degrees for about 10 minutes or until golden.  Remove from oven and
 spoon filling into each cup equally dividing among cupcakes.  Bake
 again for about 15 minutes.  Serves 12.  *Also great bite-size
 desert if miniature muffin pans are used. 
 
---
What Now?

----- Original Message ----- 
From: Lazarus
To:   phaedrus 
Sent: September 30, 2000 10:26
Subject: What Now?

> Dear Uncle Phaedrus,

> 
> I've checked all the censuses trhat I can think of, and I can't find 
> my relatives anywhere.
> What now?
>
> Lazarus

Hello Lazarus,
One thing you can do is this:
1) Go back to the LDS Family Search Site
2) At the top, click on Custom Search. This will bring you to the Family History Library Catalog. This catalog is "Over 2 million rolls of microfilm and hundreds of thousands of books and maps described and cataloged." You can search to see if your family's surname is referenced in any of those books, or you can search by place to see if there are records pertaining to any particular location you are interested in. These book may be compilations of the family history of another family, with your ancestors mentioned as marrying one of them or perhaps even as neighbors. These can be very valuable in helping you locate your ancestors when other sources have failed.
3)Choose your search by either Surname or by Location. 4) Read about the books that appear as relevant and write down the microfilm numbers of the ones you want. You can order them online or by contacting your local Family History Center. The films will be sent from the library at Salt Lake City, Utah to the nearest Family History Center to you, where you can view them on a microfilm reader. They are not for sale, only for loan to the Family History Center for 60 days. You cannot take them home, you may view them at the center only. Most centers have facilities for you to make a hard copy of pages that interest you.
Don't be leery of going to a Family History Center at a Mormon Church. They don't evangelize to those who come to use the Centers. It's a wonderful service that they provide and I commend them for doing so.
Phaed
---
Pinch vs Shake

----- Original Message -----
From: guy 
To: phaedrus
Sent: Tuesday, September 26, 2000 01:06
Subject: Hi


> Hope you have been well.
> Why do the chefs on tv never use a salt shaker?
>

Hi Guy,
Well, off the top of my head, I can think of two reasons:
1) They use kosher salt, of which the grains are too big for a regular shaker.
2) They can measure it more accurately with their fingers or with a measuring spoon. Hard to measure a "pinch of salt" using a shaker.
Phaed
---
Can U Do the Fandangle?

----- Original Message -----
From: sk8hard
To: phaedrus
Sent: Friday, September 29, 2000 16:11

> Can you find out what the new skateboard trick called the "fandangle" is?
>
> 

Hi,
I couldn't find a description of it, but I found it mentioned. If you'll ask the About.com skateboarding guide, I'll bet she can tell you:
Phaed
---

PAGE TWO:
Look here for previous questions.

Food Trivia Recipes History Cooking Movies Beverages TV Science Health Literature Psychology Culture

Our WEB page is always under construction, always experimental, and changes with our mood and current interests. But the basic idea has always been to answer your questions, so no matter what you may see posted here, if you have a question, write to us and we will do our best to find the answer.

The INTERNET is a tremendous storehouse of information. But finding the answer to a specific question in this sea of material is not always easy, even with all of the search engines that are available. That's where this site enters the picture. We answer questions.

What kind of questions? Anything at all. Send your questions and comments to:

Phaedrus
phaedrus@hungrybrowser.com or Phaedrus
phaedrus
---
LINKS AND THINGS:

Our LINKS!

---
Copyright (c) 1996, 1997, 1998, 1999, 2000 Phaedrus